\ \ PHOTOS FROM THE SHOW / /
The artwork was subtly arranged in to the shape of a 'Giant Eye'
\ \ THE WALLS HAVE EYES / /
I designed a set of Wall & Floor vinyl decals 'The Walls Have Eyes' - roughly relating to the theme of the exhibition, of sight and illusion. They sit in between the framed artworks to give an extra dimension, fun and an idea of the artwork watching you watching them.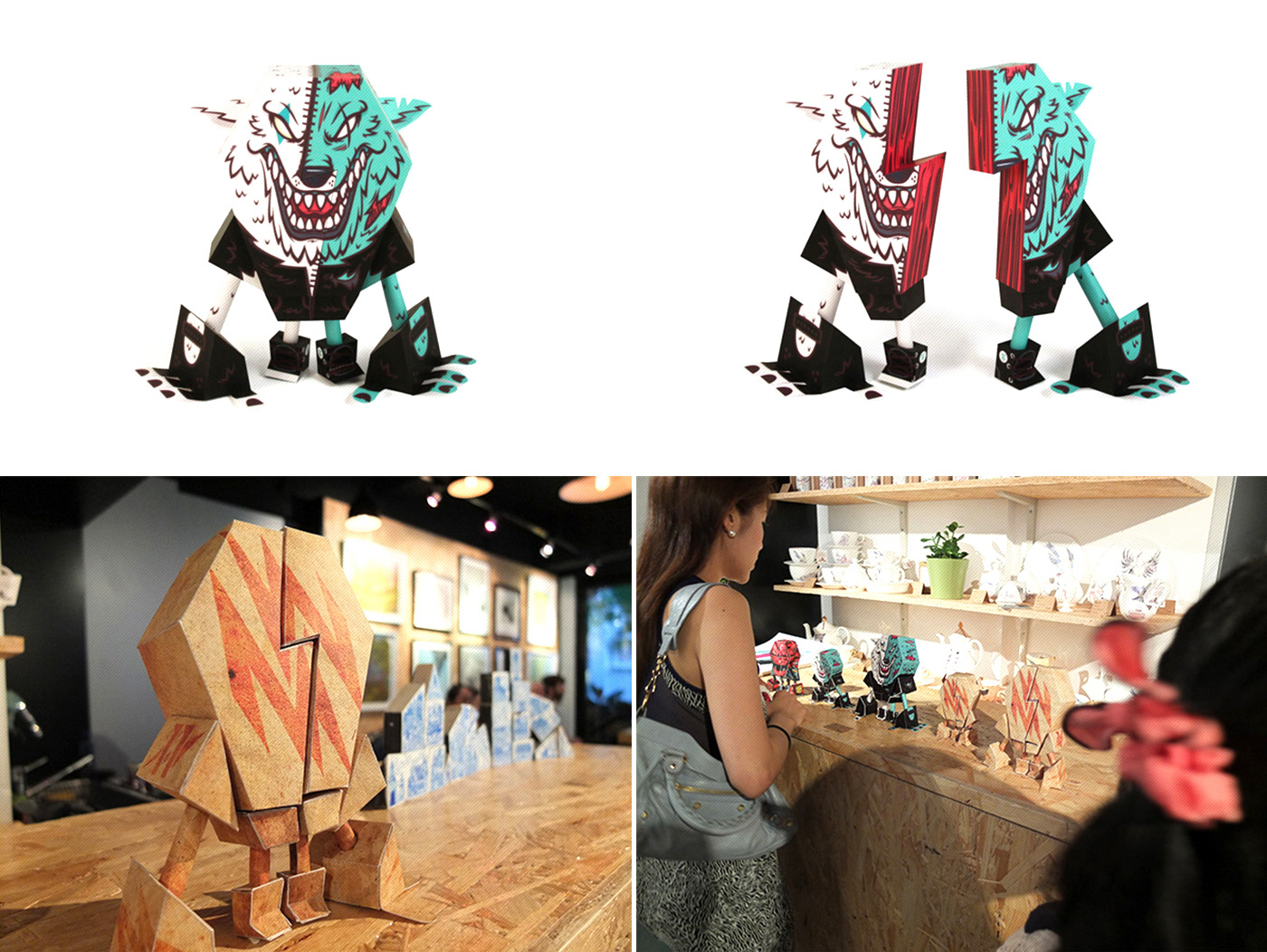 Another idea inspired by the '2 Colour / 3 Dimensions' theme. A 'Papertoy' made of 2 parts that can exist separately or connected. I had the idea for a papertoy that separated in half, but didn't have the time to further develop the idea. This show, being a collaboration of friends, I decided to share the idea with Tougui, (one of the best papertoy artists in Europe) to take advantage of his experience and skills. Tougui didn't fail to deliver, taking the seed of the idea and making it his own.
Participating artists include:
Artwork:
Bubble Friends, Cloud Commission, Mr the Beef, Mister Millerchip, Tim Cockburn, FiST, Will Scobie, Sam Peet, Patrick Schmidt, Dominic Le-Hair, Peskimo, Natsuki Otani, Tougui, Zutto, Yema Yema, ph7labs, Jessica Fortner, Sokkuan, Kuanth, Martojaks, Dan Matutina, Kristopher Ho, Stephen Chan, and more

Animation:
Clarissa Gonzalez, Sparkle VFX, Draw and Code, Rethunk Animation, Broken Antler, Stephen Chan.

Papertoy sculpture template:
Tougui, Stephen Chan.